TechPitch 4.5 partners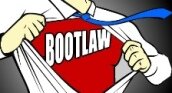 Bootlaw
Bootlaw is a free boot camp and online resource aimed at emerging technology, internet and digital businesses who want to learn more about the legal issues they face. Founded in 2008, Bootlaw is now bought to you by a group of talented lawyers at Pinsent Masons LLP who offer their time to many investors, companies and entrepreneurs on the UK's tech start up scene. Bootlaw holds monthly events at its headquarter offices in Central London at which topical issues surrounding digital businesses are addressed. These events are a perfect opportunity to gather legal clarity by picking the brains of the Bootlaw team, network with other members of the start-up community and take full advantage of the free pizza and beer. So, if you're interested sign up and get involved! To find out more go to
www.bootlaw.com
.

Interchange
Interchange is Londons newest co-working space for creative startups and entrepreneurs in the heart of Camden. With three stunning buildings over 84,000 square foot, Interchange is your platform for success.
At Interchange we focus on helping you bring your business to the next level. You will find the infrastructure, ideas and tools you need to reach new heights. We want you to think of us as part of your extended team, working in the background to let you concentrate on the things that really matter.

MediaTainmentFinance
MediaTainment Finance
is the business journal covering investments in the international creative industries (film, TV, music, games, fashion, art, books, sport, advertising, live entertainment) and the related copyright issues.
MediaTainment Finance, which is targeted at media-and-entertainment decision-makers, investors, as well as technology and creative start-ups, launched only in April 2011. Yet, it is already acquiring a reputation for its analyses of financial investments in various creative sectors, and the copyright legislation that needs to keep up with the rapidly evolving digital media.
Excerpts from MediaTainment Finance articles have been published in Social Gaming: Opportunities for Gaming Operators, the new business book about the international online-gaming industry published by SBG Companies Ltd.
For authoritative coverage of the new money in media and entertainment, read MediaTainment Finance to learn what is happening financially when, why, how and by whom.
For more information, visit
www.mediatainmentfinance.com
. MediaTainment Finance is published by JayKay Media Inc (
www.jaykaymediainc.com
).
You can download a copy of MediaTainment Finance's recent newsletter here
.

Netleadz
Netleadz is a digital marketing agency based in Central London. We specialise in 'building digital success stories'; delivering measurable results for brands, businesses, SME's, start-ups, charities, talent and public sector organisations. As experts in digital marketing, we focus on developing and delivering strategies, bringing together Search, Social, Content and Reputation to maximise online success. Furthermore, we support UK start-ups with free digital marketing mentoring, business strategy and media planning to help gain visibility and grow reach. For more information on our start up workshop please visit
www.netleadz.co.uk/startup-workshop-what-we-do
.

TechMutiny
TechMutiny is an international news and analysis resource serving the MEC (media, entertainment and creative) sectors with its range of services, including a quarterly newsletter, sector-specific reports, thought leadership content and analysis, for both the start-up communities and established media and entertainment players.

UK Trade & Investment
UK Trade & Investment is the government organisation that helps UK-based companies succeed in the global economy. We also help overseas companies bring their high quality investment to the UK's dynamic economy - acknowledged as Europe's best place from which to succeed in global business.
UK Trade & Investment offers expertise and contacts through its extensive network of specialists in the UK, and in British embassies and other diplomatic offices around the world. We provide companies with the tools they require to be competitive on the world stage. For further information please visit
www.uktradeinvest.gov.uk
or telephone +44 (0)20 7215 8000.
Interested in becoming a sponsor or partner of techpitch 4.5
? Contact Petra Johansson on +44 (0)20 3239 9325 or email petra(at)2pears(dot)com for further information.