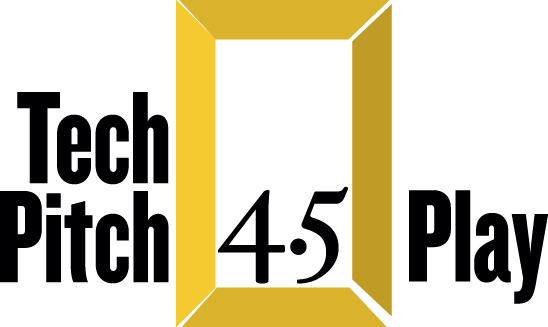 TechPitch 4.5 PLAY - Identifying tech to create new play experiences
2Pears, the team that creates opportunities and events to inform, educate and connect entrepreneurs, startups and investors in technology, is very excited to announce the next TechPitch 4.5 PLAY to take place in the evening of Tuesday 8 May, 2018.
TechPitch 4.5 PLAY is open to tech startups developing technologies and platforms that can help create, re-invent, re-imagine and enable new play experiences.
Startups with ideas and interesting technologies from a wide range of sectors and industries, that cross-over in innovative ways from physical to digital to virtual to connected, as well as smart tech-enabled devices that could enhance a toy or a game experience, whether low tech/low cost or high cost/high tech are encouraged to apply to pitch at TechPitch 4.5 PLAY.
TechPitch 4.5 PLAY will feature a keynote presentation followed by 8 selected tech startups presenting their business ideas and revenue models during a 3 minute pitch.
An expert judging panel has 5 minutes for Q&A with each startup, following which they provide constructive feedback to the startups.
A winner is selected by the judges, and a general vote of raised hands picks the audience favourite.
TechPitch 4.5 PLAY is sponsored by Hasbro, the global play and entertainment company committed to Creating the World's Best Play Experiences, and Buzzacott, the chartered accountants.
Next TechPitch 4.5 PLAY:
8 May 2018, 18.30-22.00
Venue: 
18.30 - Registration and networking
19.00 - Introduction by 2Pears
19.05 - Keynote presentation
TechPitch 4.5 PLAY will feature a keynote presentation by
play expert and futurist Yesim Kunter
, who will discuss and define the concept of 'play' and how it is evolving with the latest developments and technology trends, and the implications for makers, businesses, and society.
19.20 - Introduction of the judging panel
Harry Botterill
, Head of Technology Acquisition and Open Innovation, Hasbro
Marine Cabour
, Solicitor, Russells
Ashley Elsdon
, analyst, Create Digital Media, and Digital Associate, Heart n Soul
Andy Hodgetts
, Corporate Finance Manager, Buzzacott
Yesim Kunter
, Play Expert & Futurist
Tony Offley-Shore
, Sr Electronics Engineer, Hasbro
19.25 - 3 minute Pitches
Atom Universe
- an app that allows users to turn any real world environment into a virtual social space      
Begenio App
- a company that helps children love numbers by turning maths into a game      
Brightlobe
- an immersive tablet game with a cutting-edge, built-in neurodevelopmental test that collects data that doctors, caregivers, and educators need to assess a child's development      
I AM POP
- a simple-to-use self-serve platform that allows customers to build and launch a Messenger bot in as little as ten minutes      
MOVOball
- brings the 50-year-old Gym ball concept in to the 21st Century by enabling the Gym ball to be linked to the mobile phone and video games      
Storyball
- encourages children to leave the screens and take on real-world adventures full of fun physical activity & social play through music, stories & Mixed-Reality play      
Swopbots Coding Adventure
- mixes story telling and gaming to introduce young children to the world of coding and engineering      
- an interactive video technology that monetizes existing kids content      
#WeyoZoolife
- an entertainment/charity platform which connects people and zoos online      
#zoolife
20.45 - Networking over drinks & pizza
22.00 - End of event
Tickets - 8 May 2018
A two-tiered pricing structure allows qualified (and cash-strapped) startups to attend techpitch 4.5 at a reduced rate. 2Pears reserve the right to approve ticket purchases and refuse entry if incorrect category is stated.
Early bird tickets are available until 6 April 2018.
Apply to pitch at TechPitch 4.5 PLAY:
DEADLINE to apply at the next event taking place on 8 May 2018 is 6 April 2018.
By getting up on stage and pitching your business idea and model, in this case to the panel of experts we have put together for TechPitch 4.5, you will gain exposure and interest from both potential users and potential funders, as well as from media in general. And you get to practise and receive immediate feedback on your pitch.
The pitch session is not about achieving funding immediately, but gaining interest, making connections, and hopefully starting relevant discussions, so if you like the idea of pitching you will be good!
Pitches at 2Pears events are free-of-charge for the pitching companies, which means that the person pitching receives a complimentary ticket for the event. All other company members and interested parties will be required to purchase tickets at best available rate, to attend the event.
What we need from you in order to confirm you are eligible to pitch and to make a fair selection of companies for TechPitch 4.5 PLAY is for you to complete the application form and submitting it by 6 April 2018.Terms & Conditions